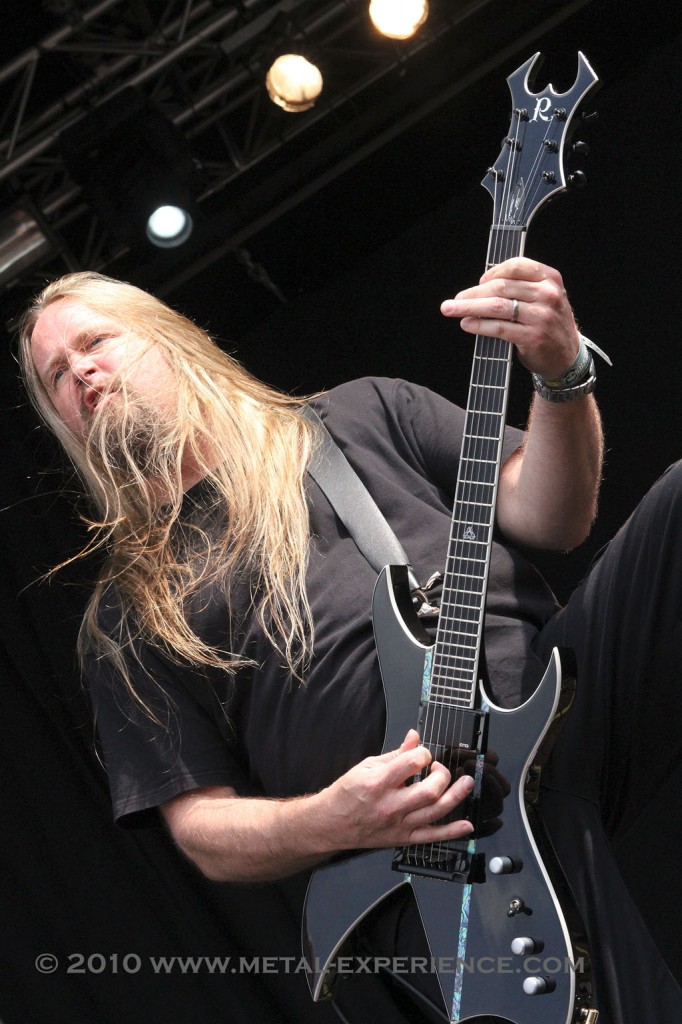 Steve Smyth (Forbidden, Nevermore, Dragonlord, Testament, Vicious Rumors) is no newcomer in the metal music or shred guitar world, first being tipped for the top in Shrapnel Records president Mike Varney's "Hometown Heroes" column in the October 1993 issue of Guitar World magazine.
A four year tenure as lead/rhythm guitarist with Bay Area power metallers Vicious Rumors started in 1995. During this time, Smyth contributed to two well received albums; 1996's Something Burning, and 1998's Cyberchrist (both released by Massacre Records), and toured extensively in the USA and Europe in support of both albums.
Then in 1999, Smyth began a four and a half year touring stint with Bay Area thrash metal legends Testament, touring the world in support of The Gathering album and then the First Strike Still Deadly album, playing to nearly 500,000 satisfied fans.
During this time Steve also helped form the lineup of Testament guitarist/founder Eric Peterson's black metal side project, Dragonlord. Two successful albums followed over the next four years: Rapture (Spitfire Records, 2001) and Black Wings of Destiny (Escapi Music, 2005).
Smyth spent late 2003 touring the world with Nevermore, the well respected underground progressive metal band, in support of their album Enemies of Reality. In 2004, Smyth was invited to become part of the band's permanent line-up, leading to the critically acclaimed album, This Godless Endeavor (Century Media, 2005), the band's sixth full length, which featured several songs penned by Steve. A world tour followed, which saw the band play the first Gigantour (the brainchild of Megadeth mainman Dave Mustaine), a headlining tour of Europe, as well as countless support tours across the globe in support of the effort.
In between tours in 2006, Smyth was invited to lend his voice to the character Snizzy Snazz Bullets, on the hit cartoon series Metalocalypse, a role he reprised again in 2008, along with a few other voices.
Smyth officially left Nevermore in 2007, citing "personal and business differences", and then released The EssenEss Project, an instrumental effort with longtime bandmate Steve Hoffman on bass, and special guest drummer Atma Anur. The effort was released world-wide on Steve's own imprint, Two Louder Music, to positive critical acclaim. Some touring in support of the album followed, in addition to several clinics and masterclasses in the States and abroad.
2009 found Smyth joining Forbidden, touring Europe and the US with the band, and participating in the writing process for Omega Wave, Forbidden's first album in 14 years, released October 22nd in EU, October 26th in the US, and Asia two weeks after. A North American tour leg involving a mixture of headlining dates as well as a support slot with thrash metal legends Overkill, kicked off November 4th in Springfield Virginia, wrapping December 11th in San Francisco. More touring in 2011 has commenced, with 2 shows aboard the 1st Annual 70,000 Tons of Metal Cruise (Miami-Cozumel-Miami), a South American tour, and the Spring Festival Season in the EU. Catch the Wave when Forbidden brings it to North America once again with a headlining tour, as well as appearances at select Summer Festivals across Europe, and a full European headline tour in the works for late summer!
2011 saw the release of a Steve Smyth signature series line of guitars from BC Rich, Signature 6 and 7 string Bich guitars designed to Steve's specs. The guitars made their debut at the Winter NAMM 2011 show in Anaheim Ca, and are now available for sale at a dealer near you! Ask for it by name!
2011 also sees Smyth co-writing the followup album for The EssenEss Project, as well as the debut of new band One Machine, who are presently at work writing a debut album due for release February 18th, 2014. Touring in support of both band's releases is in the planning stages.
Personal Stats
Fave TV Show: Boardwalk Empire.
Instruments: Electric and Acoustic Guitar and Bass, Voice, Drum and Key Programming.
D.O.B.: November 28th Year Of The Dog.
Favorite sports team: Oakland Raiders.
Favorite Food: Italian.
Band history
Ariah (1988 – 1992)
Sweet Leaf (1994 – present)
Vicious Rumors (1995 – 1999)
Testament (1999 – 2004)
Dragonlord (1999 – 2005)
Nevermore (2002, 2003 – 2007)
The EssenEss Project (1993 – 1995, 2004 – present)
Firehead (2008 – present)
Forbidden (2009 – present)